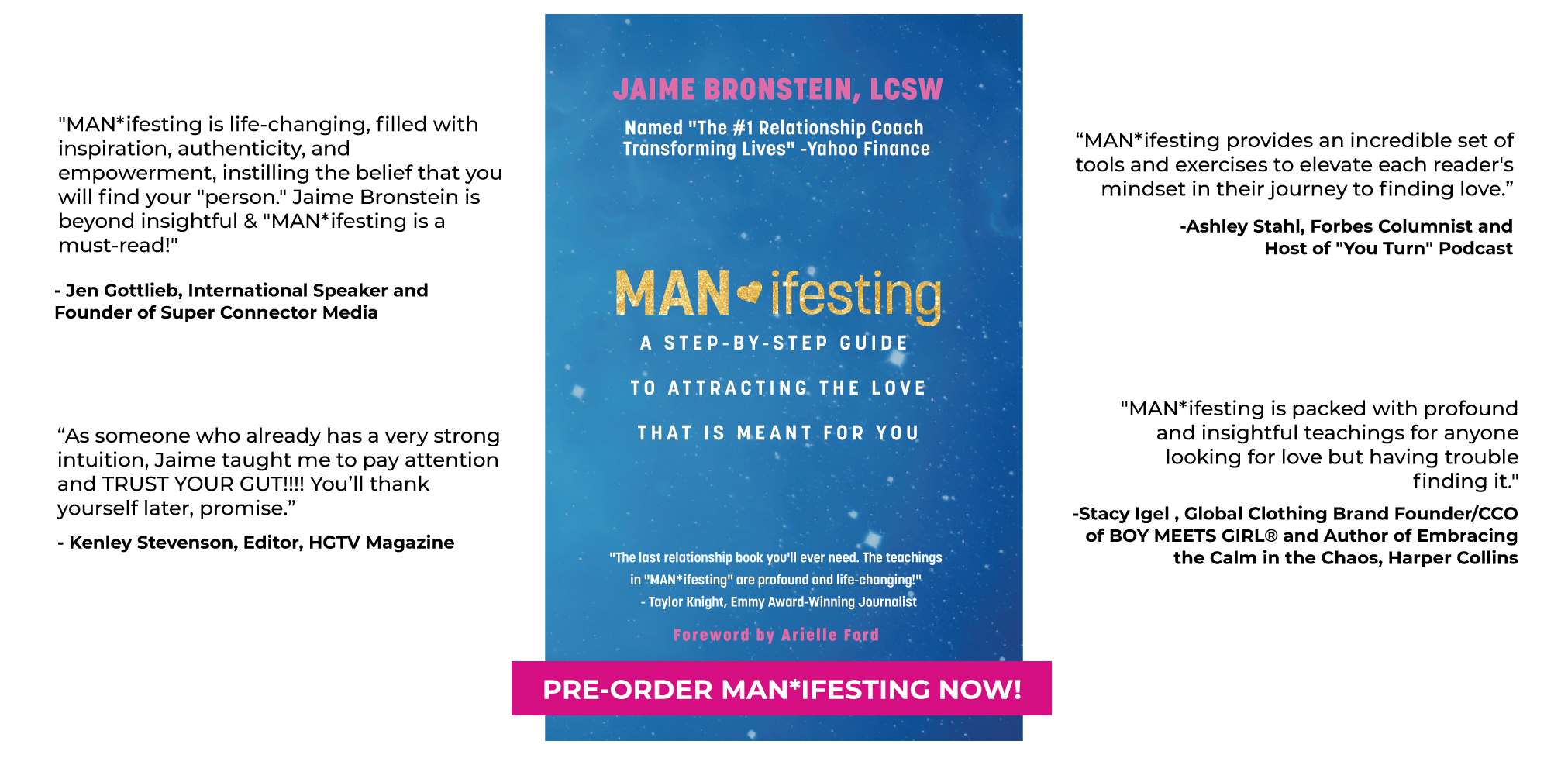 FREE WEBINAR WHEN PURCHASED BEFORE LAUNCH DAY 2.7.23
Webinar: "Prepping for Your MAN*ifesting Journey" 
Included in this webinar are:
– The 3 concepts that will establish a foundation before you start your "MAN*ifesting" journey.
– How to clear away what is no longer needed in your heart and your consciousness.
-A never before released visualization exercise for getting clear on what you're looking for before you start your "MAN*ifesting" journey.
And 45 minutes of Q & A…. Ask Jaime ANYTHING related to dating and relationships.
Even if you don't ask a question, someone else will be asking the universal questions that everyone wants to know!
Don't worry if you can't make it to the live webinar! Everyone who registers before the official book release date of 2/7/23 will receive the replay!
January 17th, 2023 @ 7:00 pm – 8:00 pm EST 

Anyone who buys a book before 2/7/23 will automatically be entered to win 1 of 10


FREE 30-MINUTE COACHING SESSIONS with Jaime!
MAN*ifesting
A Step-By-Step Guide to Attracting The Love That's Meant for You
Have you ever wondered what's holding you back from finding The One? Are you tired of being single? Are you ready to get unstuck, and step into your power and shed the residue of your past? If so, Jaime Bronstein, LCSW named "The Number One Relationship Coach Transforming Lives" by Yahoo Finance, is here to show you that you're not alone; you can and will find love. MAN*ifesting will guide you on a journey from dating to destiny by teaching you exactly how to attract your soulmate.
With over twenty years of experience, Jaime, "The Relationship Expert," uses case examples from her work as a licensed psychotherapist and relationship coach and shares some of her own trips along the relationship road. Jaime has helped thousands of clients remove their blocks and receive the life and the man they desire. In this book, she shares the proven practices and psychological and spiritual tools that will lead you to your Authentic Self and the love of your life. You will learn, experientially the intricacies and nuances of manifesting that have been lost in translation…. up until now.
"MAN*ifesting provides an incredible set of tools and exercises to elevate each reader's mindset in their journey to finding love."

Ashley Stahl, Forbes Columnist and Host of "You Turn" Podcast
"MAN*ifesting" offer's Jaime Bronstein's hard-won wisdom, along with step-by-step guidance that will be the catalyst to create the love life of your dreams."

Arielle Ford, Author of "The Soulmate Secret."
"Jaime Bronstein's "MAN*ifesting" is a game changer, especially in this new post-Covid climate where mental health awareness is KEY. This book teaches communication and self-awareness, self-worth, and living our positive, true authentic lives. Jaime's book helps every one of every age and gender set goals to live a positively changed life. A must-read!"

-Marki Costello, President of Creative Management Entertainment Group
"MAN*ifesting is filled with inspiration, authenticity, and empowerment, instilling the belief that you will find your "person." Jaime Bronstein is beyond insightful & "MAN*ifesting is a must-read!"

- Jen Gottlieb, International Speaker and Co-Founder of Super Connector Media
"As someone who already has a very strong intuition, Jaime taught me to pay attention and TRUST YOUR GUT!!!! You'll thank yourself later, promise."

- Kenley Stevenson, Editor, HGTV Magazine
"MAN*ifesting is packed with profound and insightful teachings for anyone looking for love but having trouble finding it."

-Stacy Igel, Global Clothing Brand Founder/CCO of BOY MEETS GIRL® and Author of Embracing the Calm in the Chaos, Harper Collins.
"The road to love is not without its challenges, but MAN*ifesting is the uplifting best friend you need by your side. Jaime's optimistic words will give you hope, rather certainty, that your person is out there—it's all how you look at the situation."

-Danielle Valente, Writer, My Imperfect Life Magazine
This book was exactly what I have needed! I have always believed in manifesting but I have never really dove into in terms of a relationship. I can't wait to put this book into action, thanks Jaime!!

Kaitlyn R.

INCREDIBLE!
While the book may be called MAN*ifesting, I think book really applies to anyone and everyone! Jaime gives such great tips and steps to take along the way.

Steph K.

Everyone needs to read this!
MAN*ifesting will teach you how to:
Reveal the secret; the missing piece to manifesting the love you deserve—not just any man, but the right man for you.
•  Discover the fear-based "Dating Personas" that have held you back—and how to release them. Have you been The Chameleon? The Repeater? The Faultfinder? A combination? These are just a few ways you could be blocking yourself from love. 
•  Connect with and strengthen your intuition, your inner compass, finally trusting yourself so you can start living a life free of regret and bad decisions.
•  Uncover your inner resources to shift your lens of perception, dissolve misbeliefs about yourself and reclaim your authentic self; the self you were born as before life and challenging relationships got in the way. 
"This is a book about empowerment," says Jaime. "It is a deep dive into purposely transforming your life by connecting with yourself so you can attract the love meant for you. MAN*ifesting will triumphantly lift the weight off your shoulders. Instead of looking at dating as daunting, you will look at the journey to love as fun and enlightening, trusting the process every step of the way."
By the end of this book, there will be no doubt in your mind that your soulmate exists; it will just be a matter of time until you meet him.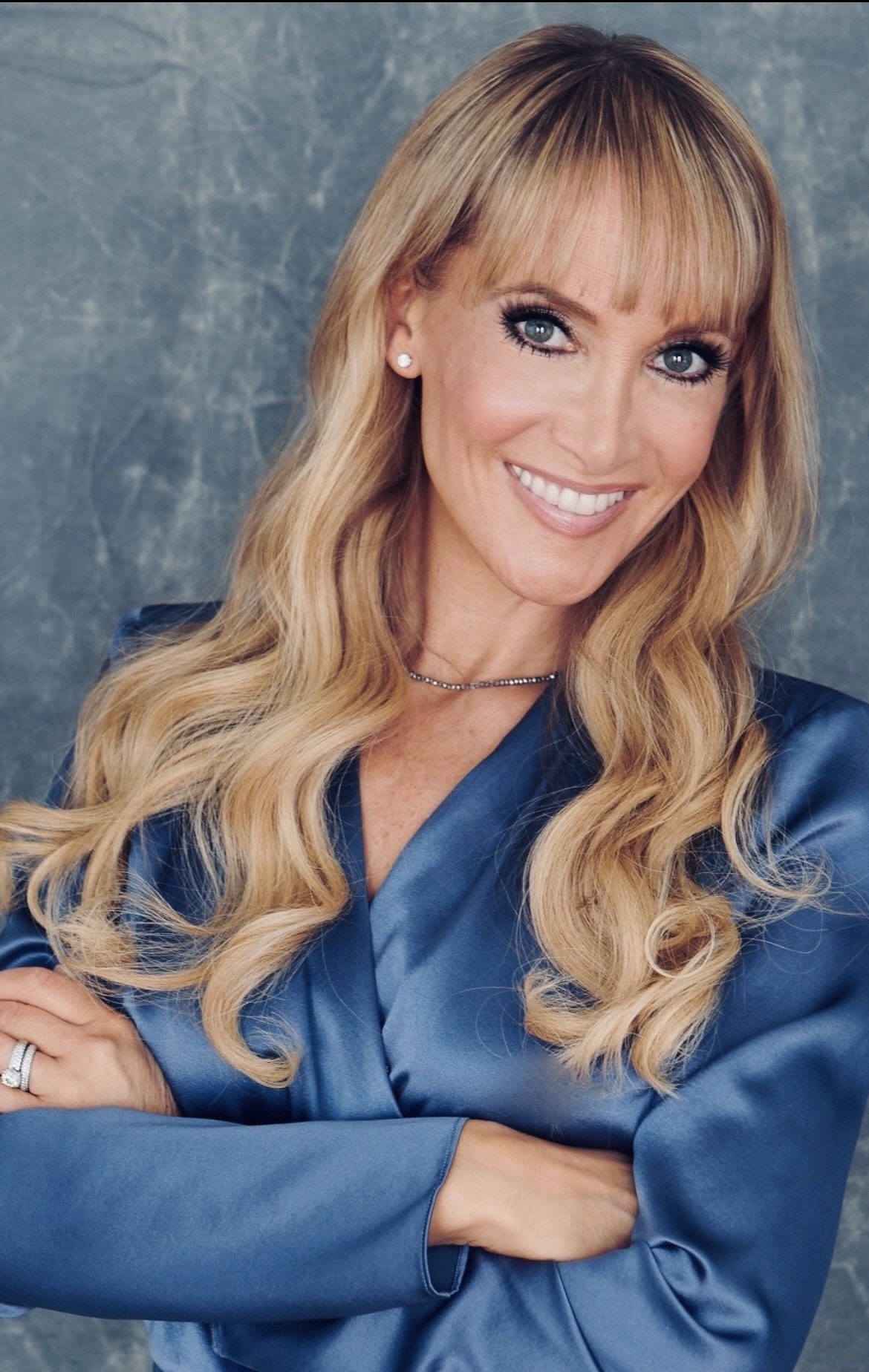 About Jaime
Jaime Bronstein, LCSW, relationship coach, author, and speaker, hosts Love Talk Live on LA Talk Radio. Jaime has shared her relationship advice on various media outlets such as KTLA, ABC, NBC News, Forbes, The New York Times, USA Today, People Magazine, and Thrive Global. Jaime has a BA in psychology from Boston University, a master's degree from New York University, and a certificate in Spiritual Psychology from the University of Santa Monica.
Jaime's education and over twenty years of experience enable her to help her clients heal and see each challenge as an opportunity to evolve, turning pain into purpose. As an expert, Jaime is a trusted guide to manifest love and to live a fulfilled life. Jaime's mission is to create a positive impact while changing lives worldwide.